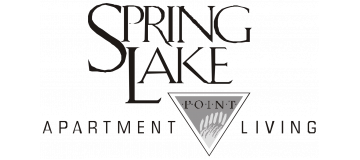 Your Review
Submit a Review

Resident Reviews
|Recommended: YesAmazing Place to Live — I Love the area and the staff is always very helpful and friendly. It is a great neighborhood to live in
|Recommended: YesI enjoy living here — Management is friendly and helpful. Maintenance responds very quickly.
|Recommended: YesExcellent Place to rent — If you need a safe, quiet, and affordable place to rent with spacious apartments and good neighbors, Spring Lake Point is the place to choose.
|Recommended: YesThis is an amazing place to live. — Life here is amazing. The property staff has been very helpful and informative. They always called back the same day to help answer questions or give us information. The maintenance staff is exceptional. They arrived the same day we put in a request and Joe was super kind. There are so many amazing perks like a gated community, alarms systems, two pools, and a dog park just to name a few. I am extremely happy with my choice to move here. I would recommend this apartment complex to anyone.
|Recommended: YesMy favorite — I've lived here for over a year now and I'm on my 2nd lease. I love it here I always feel safe, there's plenty of amenities, the staff is friendly and helpful, and maintenance is super timely and efficient.
|Recommended: YesPeaceful paradise — The office staff is professional, friendly, and compassionate. It's a nice quiet place to live. I hardly ever hear the train at night it mostly run during day between 3 and 4pm which doesn't bother me at all. Beautiful Landscape. A lot of tenants are friendly. My family and I get out and walk quiet often and everyone always speaks.
|Recommended: YesNice neighborhood friendly, helpful staff — The neighborhood is quiet and well-kept. The staff is very friendly and helpful which is a huge plus for me. I am not overly fond of the size of the kitchen and also the fact that I can hear my neighbors through the walls at times and also smell when they are cooking certain dishes. I have recommended the community to friends looking for a place because I do believe it is worth it to give this community a shot.
|Recommended: YesAccommodating, professional, personable staff — So far, so good living at Spring Lake Point Apts Everyone on staff has made the move-in process smooth, even in the COVID-19 crisis. My apt is on the 1st floor, so footsteps are heard on occasion there are a few places on building s exterior s that need attention, but overall, well-kept I expect Maintenance people to fix problems in a timely fashion, but have not personally experienced it, as of yet the apartment' community is in a desirable area, in the midst of desirable homes, so in comparison to others I've lived in, with comparable rent, it is nice.
|Recommended: YesIt is serene and one with nature--I now have a front porch — This is my first week, I was initially startled by the Train being so close, but the walls are well insulated. I saw ducks around the lake and flying overhead, squirrels not afraid of humans, blue Jays and Cardinals flying around and nesting. In time the train sounds will become part of the daily routine. The staff has been very patient and helpful with setting up my online access to the Spring Lake Point system.
|Recommended: YesThe Place I Call Home — I love it here It is quiet and peaceful overall. The staff is awesome. Landscaping is nice. I have friendly neighbors, for the most part. I would definitely recommend it to my friends and family. It's not perfect, but it's good -
|Recommended: YesWONDERFULLY SERENE AND QUALITY LIVING — This is one of the best apartment communities in the Shreveport-Bossier city area. I feel safe and secure as a single woman, and I am wonderfully glad to be living in the Spring Lake Pointe community. The staff is very friendly, patient, welcoming and extremely helpful with all and any questions concerns that I may have. The Maintenance staff is very quick and timely with the work orders. From the day I inquired about living in this community, the staff made everything simple and stress-free for me. They made me feel very welcomed here. Thank you for making Spring Lake Pointe a wonderful place to call home.
|Recommended: YesFirst time apartment owner — The 1BR 1BA cypress is a nice size, not too big or too small. I love the closet space available. The kitchen appliances are a nice size as well, fridge, oven, and microwave. I've only been staying here a couple weeks, but I already can tell I'm going to love staying here.
|Recommended: YesIt's a great place to live — There's plenty of parking, the apartments look nice and there are plenty of community ammenities. The pools and fitness center are the best I've seen from the places ive lived prior. My only reccomendation is to get a 2nd or 3rd floor apartment, because i can hear my neighbors upstairs sometimes, but its not terrible. Not a bad price for what I'm getting
|Recommended: YesSpringlake — I've really enjoyed living here and don't have any complaints other than being near the train tracks. The apartment building shakes multiple times per night.. very loud..