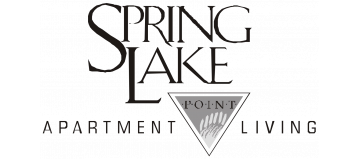 Your Review
Submit a Review

Resident Reviews
|Recommended: YesSpring Lake Living is just right for me — I love my aparrment. The staff has always been courteous and quick to help if needed. They have gone out of their way to make me feel special.
|Recommended: YesI love everything about it. — It's a great friendly space to live in.
|Recommended: YesAn excellent experience at Spring Lake Point Apartments — If you choose to live here, you won't regret it It's very quiet, the grounds and buildings are well kept and the staff are super.
|Recommended: YesWonderful, quiet, safe — I am very content, living at SpringLake Point. I would recommend SpringLake to everyone. Excellent Staff
|Recommended: YesReview — Good value for the money.
|Recommended: Yes
I love living here — Everyone is so nice and when I need something fix in apartment that get the job done the staff is awesome
Thank you so much for your review!
|Recommended: YesWonderful community nestled in an area that is close to shopping and eating — Wonderful complex with a professional staff and timely maintenance clean pools and beautiful landscaping.
|Recommended: Yes
Best apartment experience we've had — My wife and I have lived in several apartments and this was by far the best experience we've had. The staff were super friendly, maintenance was taken care of ASAP, the grounds were neat, and it was always very peaceful and quiet.
Thank you so much, Zoe! We wish you all the best!
|Recommended: Yes
Overall, nice place to call home — They are indeed homes. The only thing I had an issue with was the loud music from outside on the parking lot. Was not occurring until a few months ago. Has become quiet again so far.
Thank you for your review, Joasetta! If you have any other issues from noise from the parking lot, please let us know.
|Recommended: Yes
Would live here again — I needed something temporary and I am glad I chose Springlake. It was a pleasant experience. Loved how the property is nestled away and hidden from the road, gated, and the landscaping is gorgeous. Apartments are spacious. Cabinetry and fixtures needs updating. However, some apartments may have upgrades. Staff are very nice. Maintenance is on top of things. Noise level is minimal. They occasionally have events for the residents at the clubhouse pool. One morning the staff passed out breakfast items and drinks as you left for work at the gate. Residence are appreciated and they love to show this, which makes this an amazing place to live. Thank you Springlake
Thank you so much for your review, Suelena! We are glad you enjoyed your stay with us and wish you all the best.
|Recommended: Yes
Excellent place to call home — Nice apartment on the second floor. Very quiet, minus the occasional train. Good value for the money. Only issue I had was when maintenance came in to replace the glass on the patio door he set the old piece inside against the wall and it peeled a long strip of paint off. Once the new one was completed he left without saying a word nor fixing the paint.
Thank you for the review! I'm sorry maintenance did not complete the work in your apartment. Please call our office so we can get the painting touch up scheduled.
|Recommended: Yes
Best apartments I've been in yet — The landscaping and upkeep are impeccable, always neat and tidy. I called maintenance after hours and they still showed up within an hour. I never struggle to find a parking spot nor have to walk in the dark. The exterior lighting is a huge plus. I've stayed in three different sets of apartments, and Spring Lake Point is by far the best yet.
Thank you for your kind review, Patrick. We appreciate our residents very much!
|Recommended: Yes. — .
|Recommended: YesEnjoyable but could have been better — There were many things I really enjoyed about living here- the location, low general noise levels, the two pools, abundance of trees, the crawfish boil, and the general cleanliness. For the first year of renting, I was really pleased with my apartment. It has been in the past year that I have really noticed the flaws in my apartment- things I think I pay too much to have. I also visited some friends that live in other buldings in the complex and noticed how badly my apartment needed to be updated... theirs had been painted, with new countertops and appliances. It was disappointing to me that Spring Lake never once offered to update my apartment, as that really would have made a big difference in its appearance and made me feel like my rent was worth it. Besides that, I generally liked the apartment.
The views and opinions expressed herein are solely those of the original authors and other contributors. These views do not reflect the views of "Spring Lake Point", its owners, managers, agents, employees or content providers. No representation or warranty, express or implied, is made or given by "Spring Lake Point", its owners, managers, agents, employees or content providers regarding safety, accuracy, completeness or suitability of the information or material expressed herein for any particular purpose